Education
TOP-RANKED HISTORICALLY BLACK UNIVERSITY
Howard University is the country's top-ranked historically black college or university, and is one of the leading comprehensive research oriented, private universities in the nation. The main campus, located in Washington, DC, has a legacy of extraordinary research, faculty, principal investigators, and students.
DOCTORAL/RESEARCH-EXTENSIVE INSTITUTION
Howard University maintains a ranking by the Carnegie Institute as a Doctoral/Research-Extensive Institution. HUPAS is an accredited program offering the Master of Science and Doctor of Philosophy degrees in atmospheric sciences. HUPAS is a national leader among peer institutions in producing well-trained atmospheric scientists. HUPAS facultyare recognized experts in:
Tropical storms

Chemical modeling and data assimilation

Characterization of water vapor, wind, aerosol variability

Characterization of the impacts and microphysical evolution of aerosols
Beltsville Center for Climate System Observation (a NASA University Research Center) is a primary research center at Howard University that provides research opportunities for HUPAS students and faculty.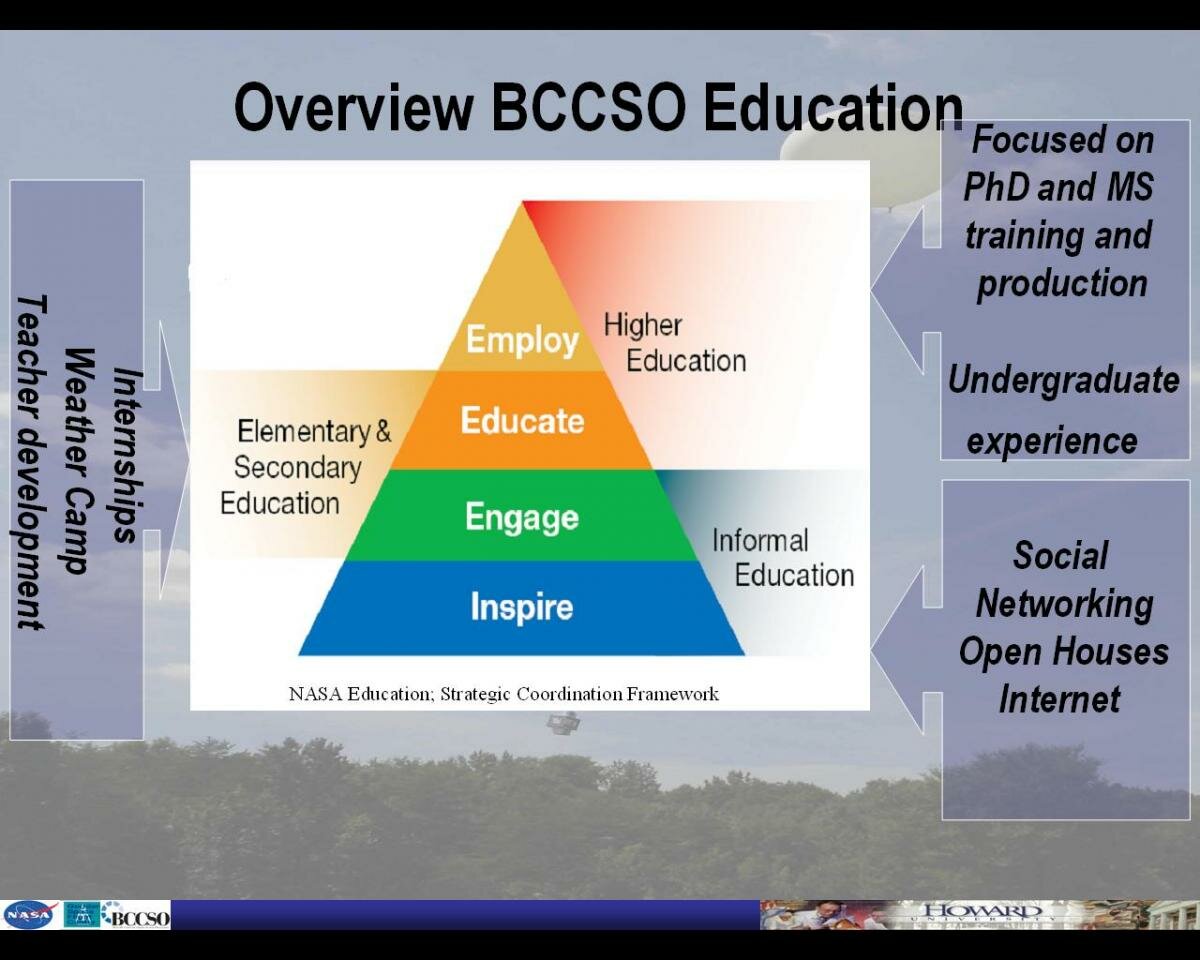 THE MISSION OF THE BELTSVILLE CENTER FOR CLIMATE SYSTEM OBSERVATION
The mission of the Beltsville Center for Climate System Observation (BCCSO) is to lead a transformation in atmospheric research and education by inspiring traditionally underrepresented groups. Our goal is to:
Create Science and Academic Leaders

Educate the Next Generation of Scientists

Conduct Research to Improve Weather, Climate, and Air Quality Prediction

Establish a World Class Atmospheric Research Facility
ONE OF 48 PRIVATE DOCTORAL/RESEARCH-EXTENSIVE UNIVERSITIES IN THE NATION
Howard University is one of 48 U.S. private, Doctoral/Research-Extensive universities and comprises 12 schools and colleges. Founded in 1867, students pursue studies in more than 120 areas leading to undergraduate, graduate and professional degrees. Since 1998, the University has produced two Rhodes Scholars, a Truman Scholar, 19 Fulbright Scholars and 10 Pickering Fellows. Howard also produces more on-campus African- American Ph.D.s than any other university in the world.
Moreover, the University is dedicated to attracting and sustaining a cadre of faculty who are, through their teaching, research and service, committed to the development of distinguished, historically aware, and compassionate graduates and to the discovery of solutions to human problems in the United States and throughout the world. With an abiding interest in both domestic and international affairs, the University is committed to continuing to produce leaders for America and the global community.
ADVANCED GRADUATE PROGRAM
Producing scientific leaders and experts requires an advanced graduate program that engages students in research on the vanguard of the discipline. To that end, Howard University has assembled a cadre of talented faculty who are already making significant contributions, for example, in their leadership of international field experiments in West Africa to study the genesis of tropical storms. They have fostered productive research collaborations with NASA scientists.
The Water Vapor Variability Satellite/Sondes (WAVES) field experiment that was conducted at the Howard University Beltsville Campus between 2006 and 2008 is one such example. WAVES accomplished important science for NASA in terms of AURA and AIRS ground validation (as evidenced by the resulting publications) while engaging numerous graduate students.